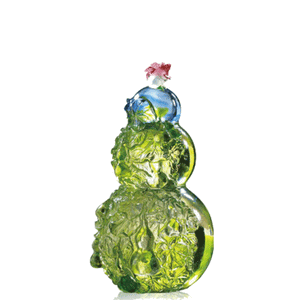 Crystal Mice, Mouse, Year of the Rat, Fengshui Hulu, Flying High with Ease
LIULIGONGFANG
Regular price $478.00 CAD Sale
Design Concept:
In Chinese, the gourd is called hulu (葫芦). The first character hu (葫) is the homophone of the word "to protect or guard" (hu 护) and the word for "blessing" (hu 祜). In the olden days, hulu were tied onto the back of small children, in case they fall into a stream, river or sea.
Being so rich in symbolism, the hulu gourd is considered a powerful feng shui enhancer and cure for problems relating to health, longevity, fertility, prosperity, and so forth.
Flying High with Ease

The roads I have walked
Are paved with fortune,
Though the load is heavy,
I am not tired.
Flying high,
This is my sky! My sky of beauty.

舒舒服服頂上飛

走過的路
都是福祿
碩果纍纍
但是不累
頂尖高飛
我的天!真美
| | |
| --- | --- |
| Item No.: | PEH119.ADA |
| Size: | 2.70"L x 2.50"D x 4.80"H inches |
| Material: | Crystal Glass |
| Technique: | |
| Limited Edition: | 4,800 pieces (Worldwide) |
* Note: As the art pieces are individually hand-made, the color and dimensions will vary slightly.