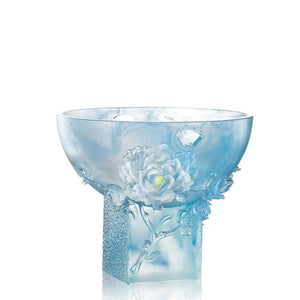 Crystal Floral Vase, Peach Blossom, Embodiment of Beauty-Lush Peach Blossom
LIULIGONGFANG
Regular price $5,600.00 CAD Sale
The Collection: Flowers Of The Earth
Design Concept:
LIULI studio glass artisans have always had a special way with flowers—it stems from Loretta H. Yang's delicate touch and influence.  This piece in particular comes from the timeless and sumptuously embellished collection "Flowers of the Earth."  It is a glasswork masterpiece that bespeaks simple elegance and rich complexity at once.  While the delicate color and wispy blends of powder white and sky blue play coy, the contrast of low and high relief in the sculpting of the piece's flowers elevate this art piece to its true potential.  Tying in all the aesthetic elements of the crystal work is the strong symbolism of the "ding" vessel shape—a symbol rooted deep in Chinese heritage, a symbol that is used as much to carry culture as a vase is used to carry riches.  Position this regal art piece alongside the deep greens of indoor plants or on a sleek surface to accentuate either modern or traditional home interiors. 
Embodiment of Beauty-Lush Peach Blossom

Accommodate
An open heart,
Conditions shift according to your mood,
Making everything even more fulfilling.

容承之美 - 碧桃滿

能容,
心開闊,
景隨意轉,
更是圓滿。
| | |
| --- | --- |
| Item No.: | PRG011.ADACM |
| Size: | 8.43"L x 8.43"D x 6.89"H inches |
| Material: | Crystal Glass |
| Technique: | |
| Limited Edition: | 320 pieces (Worldwide) |
* Note: As the art pieces are individually hand-made, the color and dimensions will vary slightly.