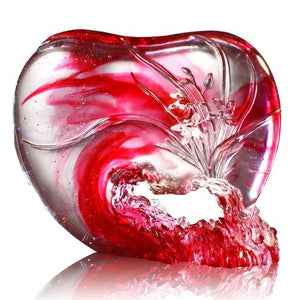 Crystal Floral Vase, Orchid, The Orchid Dance of Peace
LIULIGONGFANG
Regular price $4,775.00 CAD Sale
The Collection: Peace of Four Seasons  |  四喜平安
Related Collection: Flower Sculptures and Figurines
Design Concept:
LIULI studio artists bring to you here a crystal glass piece of an orchid depicted mid-sway in a spring breeze. Set against the backdrop of swirling, passionate reds, orchids sit atop the intricately sculpted patterns of knotted roots. The flowers here dance in a breeze, evoking a sense of calm and gentleness.
The Orchid Dance of Peace


A heart
Traverses water and mountain to arrive
Upon a small patch of dirt.
Burrowing deep like a secret,
In between my calmness and harmony are
Joy and peace.

蘭舞平安

一顆心
萬水千山而來
找到小小泥土一隅
幽幽深藏
是我淡定從容間
歡喜平安。
| | |
| --- | --- |
| Item No.: | PCG062.ADA |
| Size: | 9.80"L x 4.10"D x 9.40"H inches |
| Material: | Crystal Glass |
| Technique: | |
| Limited Edition: | 390 pieces (Worldwide) |
* Note: As the art pieces are individually hand-made, the color and dimensions will vary slightly.