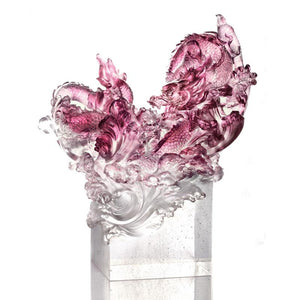 Overwhelming and Unstoppable, Dragon of Superiority
LIULIGONGFANG
Regular price $8,555.00 CAD 優惠價
Note: Limited quantity available.  This artwork will be discontinued soon.

Design Description: 

This art piece symbolizes power, success, confidence and nobility.  The dragon seen here exudes raw power, glory and a natural, unstoppable force.  The emerging dragon in Chinese culture represents a rising power, one that speaks to aspirations, endeavors, and the future.  Delicate wave patterns juxtapose detailed castings of dragon scales, coming together to capture a swift and overwhelming motion.

 

The Collection: Arising from the East

 

Overwhelming and Unstoppable

Who is it to say:
The glory days have gone?
Do you not see
In the infinite expanse of sky, the infinite surge,
How can one ignore
That inherent pride?

Towering like a giant,
I dominate the vicissitudes.

勢不可擋

憑誰問:
風流雨打?
君不見,
萬里天,千尺淵,
何曾拋卻
那與生俱來的驕傲?

恰砥柱中流,
我主沉浮。

 

Design Ref. No.:

PEA097.ADA

Size:

7.09"L x 12.20"D x 13.59"H inches


Material:

Crystal Glass

Technique:

Limited Edition:

260 pieces (Worldwide)

 

* Note: As the art pieces are individually hand-made, the color and dimensions will vary slightly.