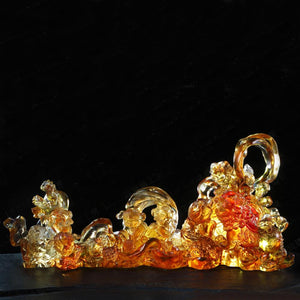 Foo Dog, Fu Dog (Joyous Blessing) - Joy in Heaven, Happiness on Earth – The Auspicious Lion
LIULIGONGFANG
Regular price $8,360.00 CAD 優惠價
The Chinese lion, commonly known in the Western Hemisphere as the "Foo Dog," is an animal known for its great luck and noble personality.  The mythical creature guards houses and doorways, simultaneously appearing fierce and peaceful. This design gathers nine lions together. Nine is an auspicious number in Eastern cultures, with identical pronunciation in Mandarin of long-lasting strength. "To continuously create art for the good of the heart", we share our hopes of prosperous futures in unstoppable waves of blessing with you.
The Collection: Mythical Creatures
Joy in Heaven, Happiness on Earth – The Auspicious Lion

Nine lions gather,
Gather the lucks.
Nine lions joyous,
Joyous is here.
Nine romping lions, playing day after day.
It is bliss, it is happiness.

歡天喜地如意獅 

九獅聚
就是吉
九獅喜
就是喜;
九獅天天鬧一起
就是如意就是喜。
Design Ref. No.:

PEA042.ADACA

Size:

17.72"L x 6.89"D x 7.87"H inches

Material:

Crystal Glass

Technique:

Pate de Verre (Lost Wax Casting)

Limited Edition:

200 pieces (Worldwide)

 

* Note: As the art pieces are individually hand-made, the color and dimensions will vary slightly.