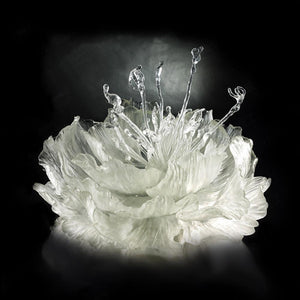 Crystal Flower, Peony, The Proof of Awareness-Springtime Dance (Collector's Edition)
LIULIGONGFANG
Regular price $11,620.00 CAD 優惠價
The Collection: The Proof of Awareness 
The Artist's Edition of this artwork were collected by following glass museums. 
Design Concept:
The original "Springtime Dance" is collected by Denmark's Glasmuseet Ebeltoft and comes from the internationally acclaimed series "Proof of Awareness" by artist Loretta H. Yang.  Being highly reputed for her Buddha and flower oeuvre, Yang combines both elements here in philosophy and subject.  Captured in the fleeting moment of the flower's zenith, this sculpture of a peony flower elicits a type of beauty that is only heightened by its ephemeral nature.  The piece is named after its season of blossom and the dynamism with which it comes to life if but only for a short time.  This collector's edition of the original work is available worldwide in highly limited quantities.
Springtime Dance
(Collector's Edition, Medium)

In the light, suddenly aware,
Realizing that you are surrounded by a clarity,
As if a dream,
As if an illusion,
Finally, all reservations in color disappear.

春之舞
( 纪念作,  中型典藏版 )

在光裡覺醒
發覺週身透明清澈
如夢
如幻
對色彩竟了無罣礙
莫非是
已然頓悟。
| | |
| --- | --- |
| Item No.: | PEG037.ADAAZ  |
| Size: | 12.20"L x 13.00"D x 8.27"H inches |
| Material: | Crystal Glass |
| Technique: | |
| Limited Edition: | 286 pieces (Worldwide) |
* Note: As the art pieces are individually hand-made, the color and dimensions will vary slightly.