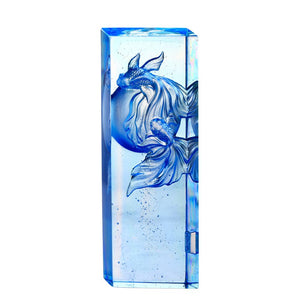 Crystal Fish, Goldfish, Rise Together
LIULIGONGFANG
Regular price $585.00 CAD 優惠價
Design Concept:
The jingyu, or "goldfish," is symbolic of fortune, prosperity, and determination for many reasons. It so happens that the two characters comprising it are homonymous with "gold" and "jade." Hailing from the collection "Through Sky and Sea I Roam," this artwork represents the attainment of all aspirations. In the convergence and partnership of two, the subjects in this piece—negatively sculpted into the crystal to create an added layer of dimension—invoke a feeling of continually rising towards achievement. The piece speaks to elevating oneself to new heights, to working together and achieving the impossible. In this way, the jingyu isn't only lucky, it represents willful and purposeful perseverance. Naturally forming bubbles within the glasswork rise along with the goldfish in an effervescent and multilayered piece that makes one contemplate.
Rise Together

Hand in hand,
heart to heart,
jump in together
and elevate each other
as you swim
to new heights.

It is no wonder that
your star keeps rising.

攜手登高

攜手
同心
共遨遊
愈游
愈高
一層更上一層

當然
步步向高峰。
| | |
| --- | --- |
| Item No.: | PEF171.ADA |
| Size: | 2.95"L x 1.26"D x 6.18"H inches |
| Material: | Crystal Glass |
| Technique: | |
* Note: As the art pieces are individually hand-made, the color and dimensions will vary slightly.