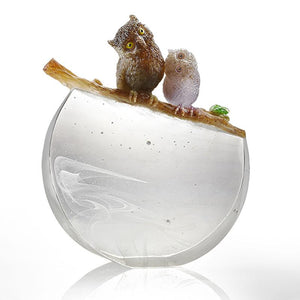 Crystal Bird, Owl, This Lifetime-Lanyu Scops
LIULIGONGFANG
Regular price $4,900.00 CAD 優惠價
The Collection: Believe and You Shall See
Design Concept:
A bird that calls for happiness
In Japan, owls are seen as birds that call for happiness because in Japanese pronunciation of owl, Fukurou, means, "lets be happy" hence a bird of good fortune.
As part of the highly limited 2013 collection "Believe and You shall See," this art piece pays homage to the studio's Formosan roots with a nod of the head to an animal many hold dear to their hearts.  In many cultures around the world, owls are interpreted as an omen of good fortune and blessing.  They can be seen as wise, nurturing, or prophetic.  To the many peoples of Taiwan, owls hold special sentiments—ranging from a guiding light in the night (to the Atayal indigenous) to a guardian of mothers and newborns (to the Bunun people).  LIULI's Lanyu scops owl are seen here alighted on a branch, their plumage glowing softly against what seems to be a starry night and the vague shape of a moon.  The piece is purposefully subtle, and gives the impression of a whisper—a reminder to live mindfully and see the beauty around you
This Lifetime - Lanyu Scops Owl

I give to you this pair of incubating wings,
Observe as yesterday's me grows into today's you.

Blanket the forest with moonlight,
Observe the wind blowing across the leisurely blooms of your memory.

With you at my side,
I confide the dreams of the stars above.

一生一世 - 蘭嶼角鴞

把孵育中的翅膀交給你
看見昨天的我長成今天的你;

把月光鋪滿森林
看見記憶的風吹過漫開的花;

與你相倚在一起
把星星的夢也說給你聽。
| | |
| --- | --- |
| Item No.: | PRF004.ADB |
| Size: | 7.70"L x 2.70"D x 8.35"H inches |
| Material: | Crystal Glass |
| Technique: | |
| Limited Edition: | 500 pieces (Worldwide) |
* Note: As the art pieces are individually hand-made, the color and dimensions will vary slightly.